Professional

Painting Company

In Elk Grove Village
Angel The Painter provides residential painting services to Elk Grove Village & the Surrounding Cities.
Your Trusted Elk Grove Village Painting Contractor
Angle The Painter is a locally owned and operated business that has been serving the Elk Grove Village community for over 15 years. We are your trusted painting contractor for all your residential painting needs. Our team of experienced professionals offer a wide range of painting and drywall installation & repair services that are perfect for any home.
Our services include interior painting, drywall installation and repair, and cabinet painting. We know how to get the job done right – on time and on budget. Our team is dedicated to providing excellent customer service, and we always go the extra mile to make sure our clients are happy with the finished product.
We offer free estimates on all our services, so call us today to schedule a consultation. We look forward to working with you.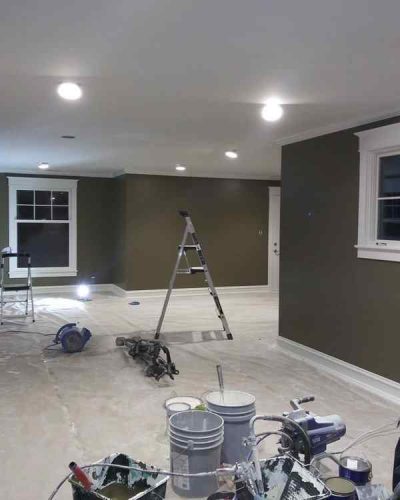 Our Services
Here are our most popular services.
We know that you don't want to waste your time getting multiple bids, so we offer a free initial consultation and estimate. We'll sit down with you and discuss your project in detail, and then provide a written estimate for the work.
Reasons Why You Should Hire A Professional Painter
A fresh coat of paint can do wonders for your home. It can make it look clean, bright, and new again. If you're thinking about painting your home, you may be wondering if you should hire a professional painter or try to do it yourself. Here are a few reasons why you should hire a professional painter:
Time Savings: A professional painter will be able to complete the job in a fraction of the time it would take you to do it yourself. This is because they have the experience and expertise to work quickly and efficiently.
Quality: A professional painter will be able to produce a high-quality finish that you will be proud of. They will pay attention to detail and make sure that every aspect of the job is done perfectly.
Efficient: A professional painter will have all the necessary equipment and supplies to get the job done quickly and without any hassle. They will also be able to dispose of any waste materials properly.
Well-equipped: A professional painter will have all the necessary equipment, including ladders, scaffolding, and drop cloths, to ensure that the job is completed safely and without any damage to your property.
Experienced: A professional painter will have extensive experience in painting both residential and commercial properties. This means that they will be able to handle any type of job, no matter how big or small.
Here at Angel The Painter Inc., we understand that your time is valuable. That's why we offer a professional painting service that is both efficient and detail-oriented. Our team of experienced painters will take care of all the prep work, including sanding, priming, and taping. We also use high-quality equipment to ensure a flawless finish. So whether you're looking to refresh your living room or give your kitchen a makeover, we can help.
Why Choose Angel The Painter?
Here is why you should work with us:
Serving Elk Grove Village Residential Customers for Over 15 Years